I received my E.L.F order last week and have been using them to their fullest extent so that I will be able to give you guys a review on them according to my fullest extent. haha. So here it goes..


1 Blush and Bronzer compact. 2 Studio Brushes. L to R. Powder brush, Complexion Brush, Blush Brush, Eyeshadow "C" Brush, and the Contour Brush. 3 Studio Blushes in candid coral and blushing rose. 4 Eyebrow Lifter and Filler in Ivory and Dark. Also the Wet Gloss Lash and Brow mascara. They come separate actually. 5 Lashes in natural and dramatic. 6 Studio Eyeshadows in Amethyst, Butter Cream, and Coffee Bean. 7 Shine Eraser. 8 Makeup Remover Cleansing Cloths.

upon opening the package, i was quick to realize that the pictures of the eyeshadows and blushes (on the elf homepage) are very misleading.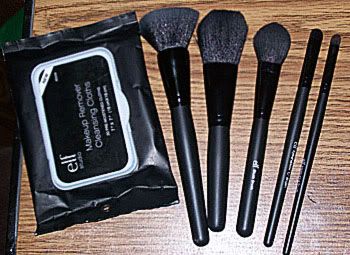 I was very impressed with the brushes, all except the Complexion Brush. Although the blush brush is a bit small, it's good for contouring the cheeks and where the nose is. I learned to like this brush a lot. Both of the eyeshadow brushes I like as well, especially the contour brush. It's perfect when it comes to creating that outer "v" look. The Powder brush is awesome as well. It blends wonderfully and is super soft. Now the complexion brush, I didn't like as much. It's way too flimsy. But all in all, I recommend these brushes.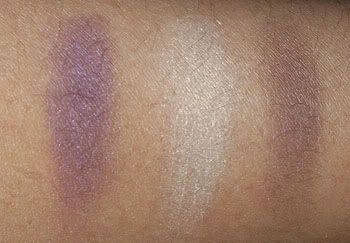 I don't like the studio line eyeshadows and will probably never order them again, that's if I ever even use them up. LOLz. The colors aren't very pigmented. They don't stay on for long either, even over my Urbay Decay Primer Potion.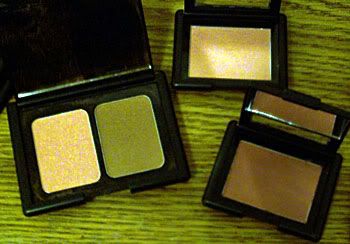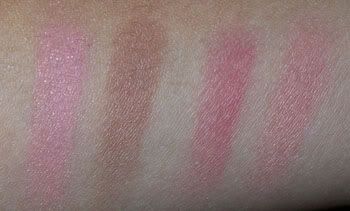 L to R -> Blush and Bronzer Duo. Blushing Rose. Candid Coral

I really like the blush and bronzer duo. I've been using it almost everyday since I've got it. Although the two colors go great together, I sometimes like to pair the bronzer with my NARs Orgasm. Either way, they're both very pretty colors. I definitely recommend this. The blush in the duo set looks very similar to Candid Coral. LOLz. too similar actually, except with a little more sparkle. Blushing Rose is a bit too pigmented, but if you use the right amount, it's actually quite pretty. I would definitely recommend the blushes over the eyeshadows.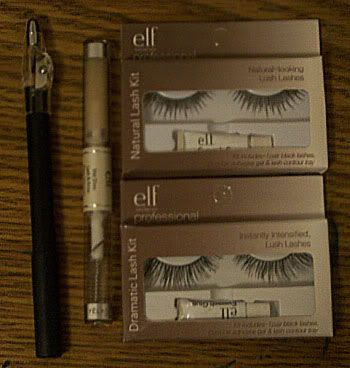 I don't like the brow liner and filler thingie. It's way too creamy. It's texture resembles that of the nyx eyeshadow pencils. DON'T buy this! Although the lashes were only a dollar, I probably wouldn't buy them again. I think they're bad quality. The brow mascara does what it's suppose to do. I like it =]

**and i noticed that i forgot to review the makeup wipes. I don't like them. Like all the other makeup wipes I've tried, they burn my eyes =( . I guess I won't be buying these again either. LOLz.

Before ordering from E.L.F, I was already skeptical of their products..and now I know why. But it's okay..because out of all bad things I bought, I ended up a few very good things. Soooooo I'm somewhat satisfied =]

If any questions, feel free to leave me a comment anytime..