My order from cherryculture came in last week. I've been slacking so didn't really get the chance to post up the swatches. I think it's about time I do that. haha. Sorry guys, just bare with me..I'm trying to update.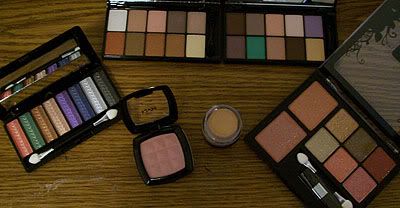 L to R: Amuse Pearl 8-color palette in Princess Pearl. NYX Runway Collection Palette in Romance. NYX for your Eyes Only Palette for Brown Eyes. Amuse Flower Palette in Pink Princess.
and then I bought the NYX powder blush in Angel and NYX concealer in Beige.
I like everything A LOT, especially the NYX concealer. The coverage of the concealer is not too heavy and not too light, almost perfect. I love it! Surprisingly I'm liking it more than my LORAC concealer. The blush, although it looks very light, applies beautifully on the cheeks. The color just looks so natural. I'm really liking this blush as well.
Here's the swatches for each palette..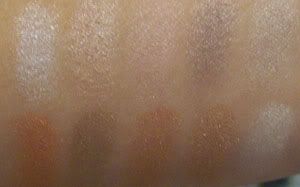 This is the NYX Runway Palette in Romance. (sorry for the bad lighting)
This is the NYX for your Eyes Palette in Brown.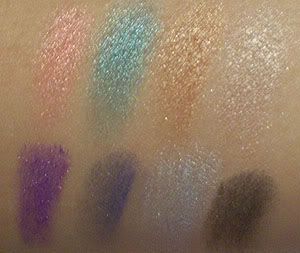 This is the Amuse 8-color Palette
This is the Amuse Flower Palette. (the top and bottom far right ones are the blushes)
Although I like both of the Amuse Palettes, I found that it was kinda difficult trying to pick up the colors with my brushes. The texture is somewhat creamy. But the colors are very pigmented. For the prices that I paid for them, they were definitely worth it.
This is the result of some of the colors off some of the palettes..I've got really bad memory so I can't remember which colors I used. hahaha. (i did this look last week when i first received my package)

and yes, my momma blessed me with long lashes (yaay!) ^_^
Thanks for all the wonderful comments as well. It keeps me wanting to update. LOLz. so thanks guyss!! =]