I bought some goodies from sephora today =D . Being that I'm a broke college student, my super awesome boyfriend was kind enough to let me spoil myself just a little bit. He hates buying me makeup more than anything because he says I've got too many. But what can i say, makeup makes me happy. Sorry babe ;)

My Prince Charming est. 030308
So technically I had a budget to stick by. I had to buy something I needed and didn't already have, and something I absolutely couldn't resist getting. This is what I ended up with...
I used to use the Laura Mercier Primer but always felt like it didn't do anything for my skin. From that experience, I got the impression that a facial primer just wasn't necessary. But lately I've been noticing that my foundation has been rubbing off very easily on things. My makeup left this huge brown stain on my son's white polo shirt this morning =/ . So I'm going to give this facial primer thing another try. Hopefully this Bare Escentuals Primer is a lot better.
I've had my eyes on this Too Faced Palette forever! The best part about it is that it comes with the shadow insurance (I'm almost out of my UDPP). What a coincidence right?! The shadows are just so vibrant. I just HAD to HAVE it!! *sigh* my boyfriend's going to be mad. I went over my budget =/
I've got class in a little bit so I probably won't get the swatches up until later. But believe me when I say that these colors are so gorgeous. Eeeek! I'm so excited!!
**UPDATE**
Here's the color swatches from my Too Faced Palette.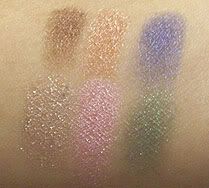 Top: Full Frontal, Socialite, Skinny Dip
Bottom: Glamazon, Boy Toy, Lucky Charms

I'll probably do a tutorial with them later on this week. The colors are so pretty!