I wore yellow today but somehow wanted my eyeshadow to be purple..I didn't turn out looking quite as tacky as I thought I would. haha. but anyways. here goes my EOTD..
and these were the products I used for my eyes...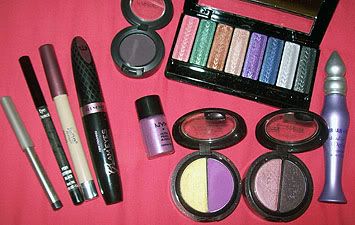 [1]
First I applied the Urban Decay Primer Potion
[2]
Went over my lid with my JANE Agua Eyestix in 01 Island Breeze
[3]
and then I went over that with my NYX ultra Pearl Mania in...hmm..turns out I peeled off the sticker so I don't really know what it's call (sorry!) It's the light purple color.
[4]
Next, used the purple in my HIP Duo in Flamboyant all over the crease. You want to make sure to blend everything nicely.
[5]
Used the the darker color in my HIP Duo in Sculpted all over the outer corner of my lids. BLENDED some more.
[6]
I ended up going over the lids again, this time with the purple color from my Amuse Diamond Eyeshadow Palette.
[8]
I lined my eyes with my NYX eye pencil in Extreme Black and then traced over it with my MAC eyeshadow in shadowy lady.
[9]
Applied 2 coats of mascara (Rimmel Glam'eyes)...DONE
wow..the list looks super long =/ but in actuality, it didn't take me that long to finish this look off. It was fast and easy.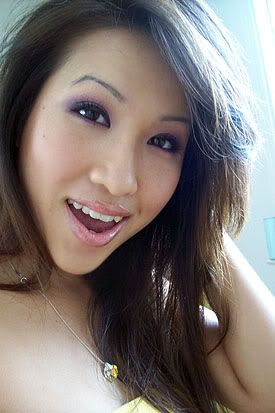 For my face and lips, I used these products..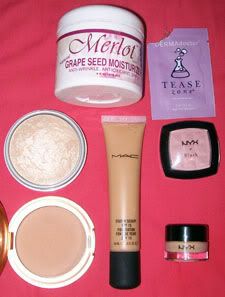 Merlot Grape Seed Moisturizer. A sample of the Dermadoctor Tease Zone Oil Control Gel from Sephora. MAC Studio Sculpt Foundation in NC30. NYX concealer in Beige. Stila Bronzing Powder in Shade 02 and illuminating finishing powder in Gold. NYX blush in Angel.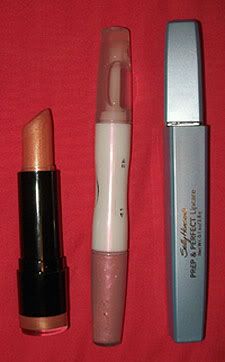 Salley Hansen Prep & Perfect lipcare. NYX round lipstick in Iris. Maybelline Superstay Gloss in shade 103.



P.S.
Smoke and Diamond's having a Contest giveaway. She's giving out any ONE Victoria's Secret Eyeshadow and your choice of the eye primer or eyeliner pencil. Exciting huh? Her rules are super simple. Contest ends Sept. 18 so hurry up guyss!!
Smoke And Diamond's Blog