I bought some goodies the other day but never got around to posting up swatches for them. These are the things that I bought..

my son got his hands on the tempting and scratched out some of the color. It's okay though, after freaking out for about an hour, I've decided to forgive him =/
I went to the Cosmetic Company at our local mall and picked up a few MAC items. I saw the Tempting Quad and felt like I just had to have it. I've been wanting Tempting for awhile now anyways, so i kinda killed two birds with one stone by buying this quad. I remember seeing one of the gurus on youtube do a review on her Metal-X cream shadow so I figured I'd give that a try. I bought the MAC's Metal-X cream shadows in Gold Spice (which is a bronzy gold) and in Material Gold (which is more of a illuminating champagne color). I really like these things. They're both so incredibly pretty. If you don't already know, I love sparkly, metallic-y eyeshadows (A LOT).


L to R: Gold Spice. Material Gold. Next To Nothing. Sharp. Tempting. Dark Edge.
Rimmel was buy one, get one free at Walgreens so that's why I bought two of their mascaras. I have their Glam'eyes mascara already but am almost out. It's by far my favorite mascara. But I felt like I wanted to try some of their other mascaras so I bought two different ones. I bought the Glam'eyes Lash Flirt and their new one, The Max VolumeFlash (which resembles Covergirl's big orange mascara). I've been using the Max VolumeFlash and kinda, sorta like it. It's no glam'eyes, but it'll do. hahah. It's not clumpy (which is a very good thing) and does an okay job of separating my lashes but just doesn't deliver enough color. And definitely NOT enough volume. I probably wouldn't purchase this again. It's
okay
but not the best. I haven't tried the Lash Flirt yet but will probably get around to using it this weekend.
I also bought lipsticks!! =D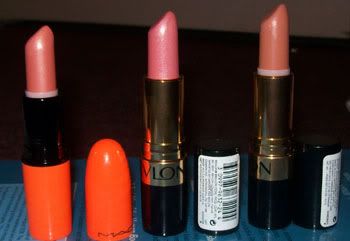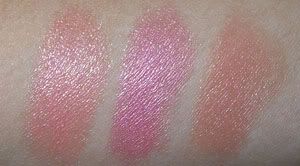 L to R:MAC's pleasureseeker. REVLON's Twinkled pink and Just enough buff.
I'm a little bit obsessed with lipsticks..
Hope you guys enjoyed my little haul. Let me know if there are any questions..