So I first heard about Aromaleigh from a video review that Fafibaby12 did and I was immediately interested. If you've never heard of
Aromaleigh
, you should definitely check them out. They've got a variety of gorgeous mineral colors at affordable prices. What's even better is that they have new sales every week. I was able to snag my full-size eyeshadows at 50% off, paying only about $2.88 for each of them. That's a pretty awesome bargain if you ask me. So here's my haul..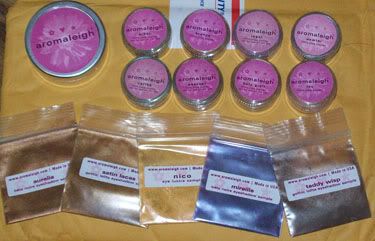 I ordered their Eyeshadow Primer and base (the larger container), 8 of their full-sized mineral eyeshadows from their Pure Hue collection, and 3 sample baggies. For those who aren't too sure if they want to commit to one full-size container, they do sell samples for $1.00. Who ever came up with that idea is a genius! haha. They also included 3 free sample baggies with my order. They definitely have customer service down pact =)
So here are the color swatches for my full-size shadows...


L to R:Arbor. Bronze. Caribe. Fox. Holy Grail. Peacoat. Pewter. Regal.

The colors are absolutely amazing. They're so vibrant. I love love love these things! Now whether you use a primer or not, it's really up to you but honestly, I think they're much more vibrant on top of a primer/base. Speaking of Primer, I really like the primer that I ordered from them. It's a bit sticky but goes on dry and almost translucent, and a little definitely goes a loooong way with this. I like it a lot and will probably order it again if I ever run out. If you don't order anything off their site, atleast order this. Believe me, you won't be disappointed. Here's a quick photo of it..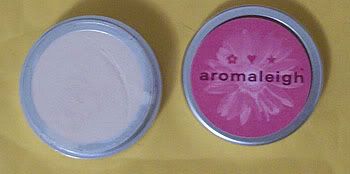 I bought mines in light.
and here's a quick swatch of the sample baggies that I received.

L to R: Aurelie. Mireille. Nico. Purple Princess. Satin Laces. Teddy Wisp.
Due to my eye infection, I steered clear of makeup for a few days so I wasn't able to play with these colors a much as I'd like. But so far I've used fox, holy grail, and satin laces. These colors are so pretty and so versatile.
The only thing I don't like is that I think the full-size containers are rather small. They're much smaller than what I'd imagine them to be. I also found it hard at times to try to get the colors out of the little holes. LOLz. Maybe it's just me. Here's a comparison of a full-sized jar next to a MAC eyeshadow..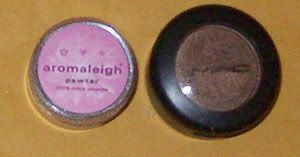 It's rather small.
But the size of it doesn't even compare to the quality of the product. This is good stuff. You have to at least try one sample baggie just to know how beautiful the colors really are. I'll probably get a EOTD done today before I head to work. If you've got any questions, feel free to ask =]
p.s.
I ordered my stuff Wednesday night and received it Saturday morning. Their shipping is awesome!
UPDATE
So here's the look I did for today using:
-Arbor
-Pewter
-Nyx eyeshadow in black
-MAC eyeshadow in Next to Nothing


FOTD..
if you want a complete list of everything I used on my entire face/eyes/lips/ect..just let me know. I'll be more than happy to list them.