I make it a habit to check hautelook.com occasionally to see if they have any good deals on makeup (because they usually do) and stumbled across a Stila sale one day. If you're not familiar with hautelook.com, it's a members-only site that features brand name goodies. Items range from clothing, to shoes, makeup, even home decor items. But the featured Brand is only featured for 2-3 days. And the awesome thing is, the prices of these items are usually marked 30%-80% off!
I was able to get my hands on the Stila Prime Color Set in Cool and a Stila Kajal Eye Liner in Pearl. It took about 2 weeks, from the day I placed the order, for everything to get to me.I paid $10 for the set and $5 for the eyeliner. That's a steal, especially since one Stila Primecolor runs for $22 alone (originally). On the Stila website, they're on clearance for $8 a piece. I was super excited when I came across this deal on hautelook. Get your hands on these items quick because I think they're soon to be discontinued.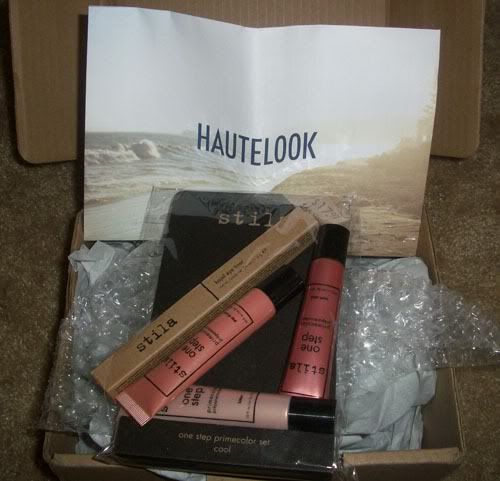 Left to Right: Kitten. Pop of Pink. Capri Coral

I haven't used these yet but according to the packaging,
"they beautifully enhances the skin by combining the benefits of a primer, lip color, eye shadow, and cheek color in one luxurious formula.."
..sounds too good to be true. LOLz. how can one product do all of that?? i guess we'll just have to see..
here's the Stila Kajal Eyeliner in Pearl. I bought it mainly to use on my waterline. I've only swatched this on my arm, but even so it seems long lasting. I tried wiping it off and it put up a good fight.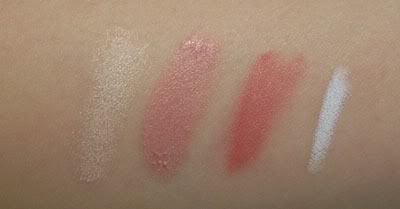 Left to Right: Kitten. Pop of Pink. Capri Coral. Pearl (liner)
I can't wait to use these! Let me know if you guys want a review on these.