I'm BACCCCKK!!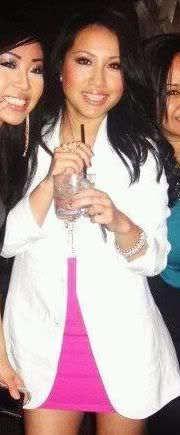 After a long hiatus, I can honestly say that I'm glad to be blogging again. I've missed you all =)
What better way to come back than with a haul, a Drugstore haul to be exact. Towards the end of 2011, a string of new makeup releases hit most drugstores. There was so much new stuff yet not enough money to buy them all, at least in my case. So out of curiosity, lord knows I don't NEED anymore makeup, I purchased a few of these newly released items and am more than glad to share them with you guys.
Let's start off with
Maybelline's 24 hr Color Tattoos.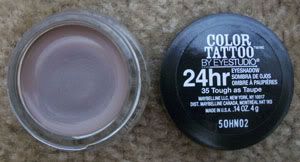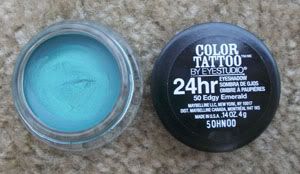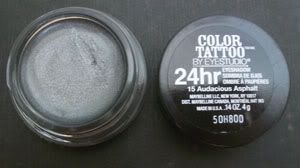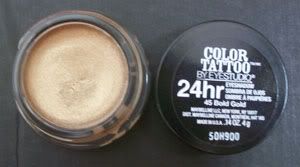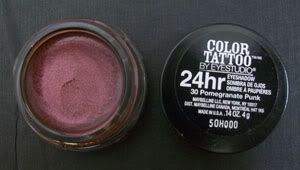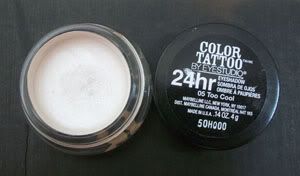 Left To Right #35 Tough As Taupe. #50 Edgy Emerald. #15 Audacious Asphalt. #45 Bold Gold. #30 Pomegranate Punk. #05 Too Cool

I'm a sucker for cream shadows and these ones do not disappoint. They're definitely long lasting, although not 24 hours as promised but long enough. Mines crease after 6 to 7 hours, but it's understandable because my lids are extremely oily. They work lovely as a base or as an all over eye color. The colors are beautiful! My favorite one would have to be Tough as Taupe. It's the only matte one and has a creamy consistency. All the other ones I have feel a little more slick, which isn't a bad thing but I would rather them be creamier. Some colors are harder to work with than others, especially Edgy Emerald and Audacious Asphalt. They don't swipe evenly across the eye, looking a bit streaky and the more you layer on, the streakier they look. But as liners, all products perform beautifully. I really like these and would definitely recommend them.
Next up are the
Loreal Infallible Eyeshadows.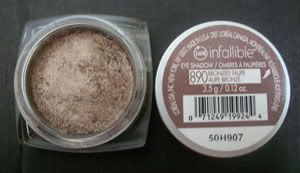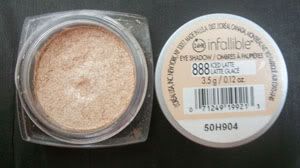 Left to Right: Bronzed Taupe and Iced Latte
These are soft textured pigments that are compacted into their containers. They have a silky slick feel to them. You can apply these with either a brush or your finger, I prefer my finger though. They are long lasting, though I wouldn't say as long as the Maybelline color Tattoos. They have a metallic sheen, which I like. Bother colors I have are very pretty. Iced Latte looks more yellow in the jar but swatches more of a champagne color. Bronzed taupe is more on the bronzy side. There's so much product that I will probably never have to repurchase.
These are the
Revlon Colorburst Lip Butters.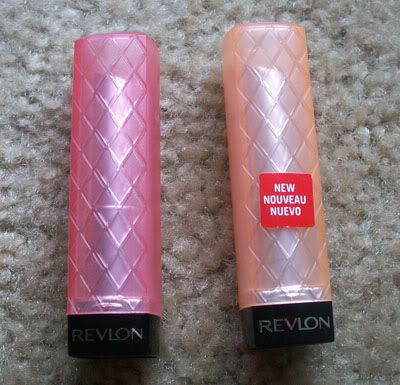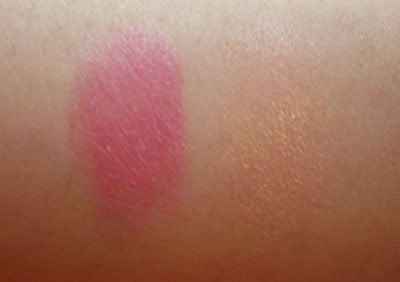 Left to Right: Strawberry Shortcake and Creamsicle
These were probably the hardest to find. I had to make at least 4 trips to Walmart within the month to find some and even then all the colors I wanted weren't available. So I settled for what was available. The thing I love most about these is that they give off color and at the same time are very moisturizing. Everybody has raved about this product, now I can see why. I was expecting Strawberry Shortcake to be pinkish but it's definitely on the purple/fuchsia side. The name is a bit misleading. Creamsicle leaves your lips looking nude, too nude. It's not a very flattering nude either. I would prefer it to be on the peachy side. The lip butter itself is great, just not too fond about the colors I picked up.
I picked up a few other items from the drugstore as well.

Left to Right: Aveeno Smart Essentials Daily Nourishing Moisturizer. ALBA Oil-Free Moisturizer. Outdoor Hands Skin Therapy Cream.

Aveeno Smart Essentials Daily Nourishing Moisturizer: First of all, the packaging is beautiful. I really wanted to like this product. It's got a nice, light consistency to it and feels so good on my face. I love the way it smells, very similar to their Radiant Skin Moisturizer. Everything about this product is awesome, only problem is...it burns my eyes. Even when I try applying it away from the eye, it still stings. It's to a point where I can't focus on anything I'm doing because I'm too busy rubbing the sting outta my eye. It's such a shame because I love everything else about it. So I do not use this product anymore, it just sits on top of my makeup drawer. Saaaad.

ALBA Oil-Free Moisturizer: This product was probably the most expensive of my drugstore haul. I think it cost me about 19-20 bucks. It was also the most disappointing. For something that says oil-free, it definitely does not feel oil-free. Like the Aveeno moisturizer, it's got a light consistency. But for some reason, it feels like it never really settles into the skin. My face looks like a total grease ball when I apply this. And the smell is so strong. It's got a smelly pineapple-ish smell to it, a smell that never seems to fade. uuugh. I only kept this because my husband, whose got super dry skin, likes it.

Outdoor Hands Skin Therapy Cream: This product I only bought because it was flying off the shelves at my local Walgreens. I don't have a problem with dry skin, but my husband does. So I bought this with him in mind. It's thick and creamy but blends to a nice silky feel. It's got a light medicinal scent that fades quickly. This stuff is amazing and has done wonders for my husbands dry, cracked hands. He really likes this stuff and I really like the way it makes his hands feel. Nice and soft. You have to give this a try if you suffer from dry skin.

That's it for my haul today. Now looking through it, it was more of a review. LOLz. Have you guys tried any of these products and let me know what you think about them. Until next time...Bye =)