I know I'm really late on this but..let's get started.
Face Products: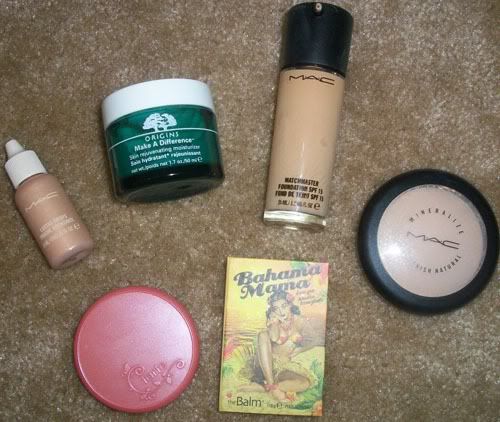 My face tends to be dry during the winter times but can easily get oily if given the opportunity. So my facial moisturizer has to be on it all day, everyday. For the month of February (in fact from the moment I bought this) I've been loving my
Origins Make a Difference Skin Rejuvenating Moisturizer
. I've been using this for about two months now and can honestly say that it has made a huge difference in the appearance of my skin. My bare face now looks more even-toned and less red. I really like this product. It's unfortunate because I probably won't be using this when summer rolls around. It's too overly moisturizing. But for the winter months, this moisturizer is a favorite.
I think I've found my HG foundation last month. I'm not completely sure yet because I've only wore this foundation 4-5 times, but I cannot stop gushing about how amazing this foundation is. I'm talking about the
MAC's Matchmaster Foundation
. I have this in shade #2. It doesn't feel heavy at all, unlike MAC's other foundations. It's got great coverage. It matches my skin tone so beautifully. It lasts all day long, even on my oily skin. I LOVE this foundation so much and am so glad I purchased it. One reason why I think this foundation lasts so long is probably due to my
MAC's Mineralized SkinFinish Powder
. I purchased this the same day I purchased my Matchmaster foundation so I've only started using this. It does a great job at setting my foundation without it looking cakey or anything. I like this product a lot as well.


Left to Right: Tarte's Tipsy. TheBalm's Bahama Mama. MAC's Mineralized SkinFinish
My favorite blush for the month of February has got to be my
Tarte's Amazonian Clay blush in Tipsy
. This color is so pretty and I cannot stop wearing it. Even when I reach for another blush, I end up topping it with Tipsy. It's just the prettiest coral color. I also have this in the gel form but that one does not even compare!
Another favorite this month would have to be my
Bahama Mama Bronzer by TheBalm
. I know it looks scarily dark in my picture, but it really isn't. This is a matte bronzer that is great for contouring. I like this color so much because it's so easy to blend. So whether I want my contours to look a little more harsh or less obvious, this bronzer gets the job done for me.
Last but not least for face products, my
MAC's Lustre Drop in Pink Rebel
. I like this item so much more than Benefit's High beam. This color just suits me so much better. I feel so pretty when I wear this. My skin also looks healthier with this on. I love this stuff.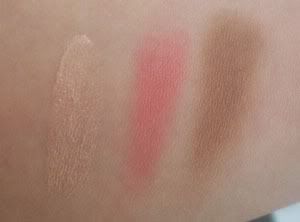 Left to Right: Pink Rebel. Tipsy. Bahama Mama
Eye Products: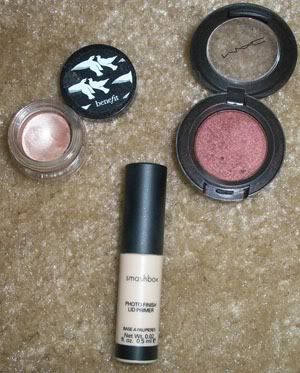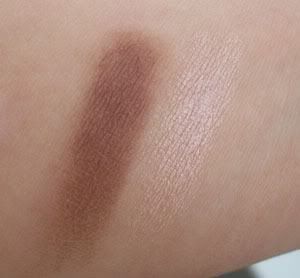 Left to Right: Glamour Check!. RSVP.

This product I feel like I've had forever. I'm so glad it's lasted me for this long and am so scared to part with it one day. LOLz. It's my
Benefits Creaseless cream shadow in R.S.V.P
. This is just a small trial size that I own. This is probably one of my most used eye products. I love it's creamy texture, it's long lasting power, and especially the way it looks on. It's just the prettiest shimmery beige color ever. If this ever runs out or dries out, I would definitely repurchase it again.
Another eye product that I'm really loving for the month of February is my
MAC eyeshadow in Glamour Check!
. I use this color a lot on my crease. It gives my eyes the right amount of definition. It's a really nice reddish brown with fine gold shimmer, a really awesome color.
This next product was a part of a palette set I received for Christmas. It's the
Smashbox Photo Finish Lid Primer
. I was previously using the Too Faced Shadow Insurance but have not gone back to that since using this. I love the consistency of this primer. It feels similar to the Urban Decay primer. It's a great eye shadow primer.
Other Random Loves...

Dolce and Gabbana Rose The One Perfume and these awesome studs from Forever21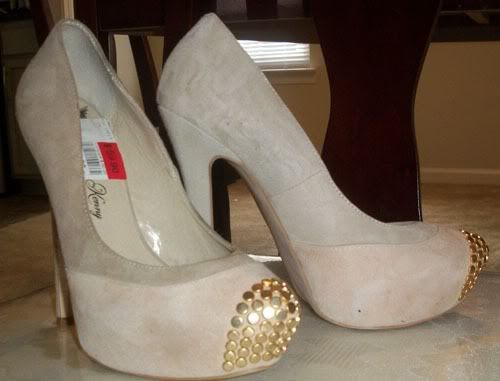 These heels I bought on clearance. I've wore them twice already. I especially love the studs.
That wraps it for my February favorites. Let me know if you've tried any of these products and how you feel about them =) Until next time, have a great day!